The VHC Vitamin-D Test is distributed by a continuously growing European network of reliable and qualified partners.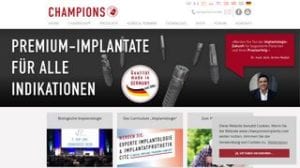 Champions Implants GmbH
Champions Platz 1, 55237 Flonheim, Germany
Wir investieren in das Produkt und nicht in sein Marketing
Champions-Implants konzentriert sich auf das Wesentliche: die (r)evolutionären Champions® Premium-Implantate und das MIMI®-Flapless-Verfahren (minimal-invasive Methodik der Implantation).
MIMI®-Flapless – seit 30 Jahren bewährt
Das MIMI®-Flapless-Verfahren vereinfacht die Abläufe für das zahnmedizinische Personal und ist für Patienten immer mehr ausschlaggebend, da das Verfahren unblutig ist, ohne Schnitte, Bildung von Mukoperiostlappen und ohne Nähte.
Durch die minimal-invasive Implantationsmethodik werden Gesamtkosten implantologisch-abgestützter, hochwertiger Zahnprothetik um bis zu 50 % reduziert, ohne dass etwa das zahnärztliche, chirurgische Honorar abgesenkt wird.
Champions-Implants – 100 % Made in Germany
Eine zeitgemäße, implantologische Versorgung ist für viele Patienten durch das MIMI®-Flapless-Verfahren erst möglich und – in der Regel – wird schon wenige Tage oder spätestens nach 10 Wochen der definitive Zahnersatz eingesetzt.
Target Groups: Dentists, Implantologists
Address: Champions Platz 1, 55237 Flonheim, Germany
Note:  In case your country, medical speciality or health care professional target group should not be covered or addressed by any of our distribution partners, please feel free to contact us directly service@jungbrunnen.co.
We are continuously extending and updating this information. However, this is still a work in progress. If you should be coming upon a mistake or typo, please give us a hint.